G.Os® are experts in the Club Med way of life and have been creating happiness with enthusiasm and kindness for more than 65 years.
G.Os® have embodied the values of Club Med since the company's creation. Positive energy, availability, goodwill, and expertise: learn all about our Gentils Organisateurs before getting a taste of their enthusiasm and sense of service during your next Club Med vacation.
Your experience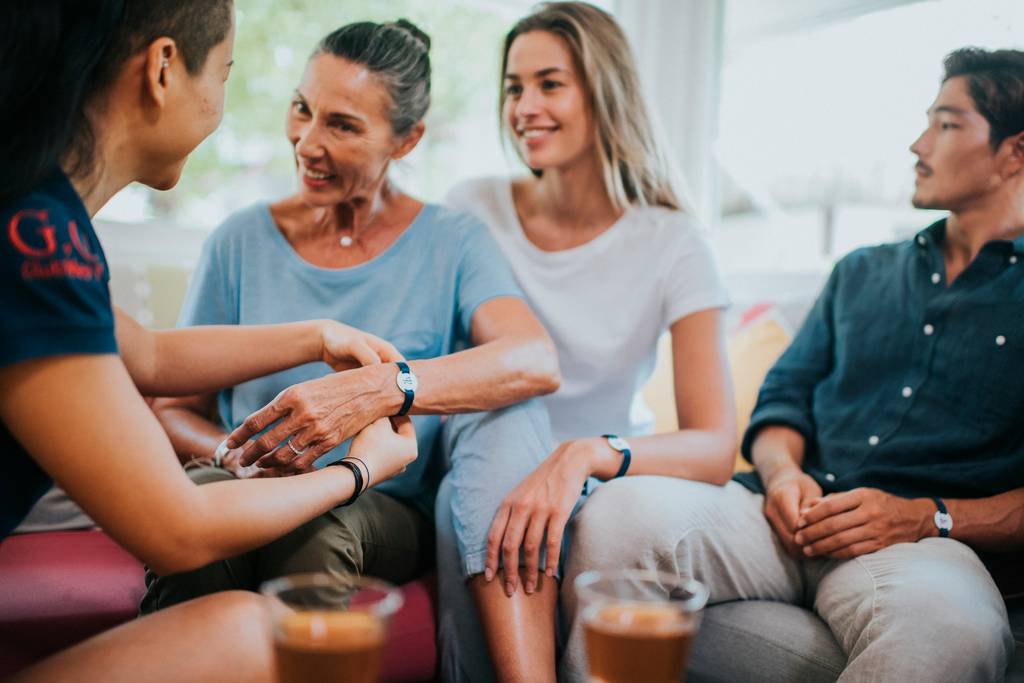 G.Os®, ambassadors of the Club Med spirit and creators of human ties
It was in 1950, in the very first Club Med Village in the Balearic Islands off the coast of Spain, that the name G.O® (Gentil Organisateur) first came into being. The name owes its reputation to the imagination of vacationers who were discovering Club Med for the first time. G.Os® were unifying figures from the very start, embodying the five core values of the Club: goodwill, freedom, responsibility, multiculturalism, and a pioneering spirit. Responsible for the friendly atmosphere at Club Med, G.Os® create magic and make dreams come true. Part of Club Med's DNA, G.Os® work in enthusiastic teams whose goal is to make your vacation unforgettable. And this has been true for more than 65 years.
Discover the 45 T-shirt, the symbol of Club Med
Club Med G.Os®, key players in the life of the Resort and your wellbeing
Being a G.O® at Club Med is more than just a job - it's also a skill. With Club Med's values at the heart of everything they do, G.Os® possess all the qualities they need to serve you. G.Os® are often described by guests as welcoming, available, cheerful, professional, talented, and enthusiastic. Their primary mission? To make sure you enjoy your vacation. G.Os® are naturally attentive to your needs and love to surprise you with new and exciting activities. As key players in the life of the Resort, G.Os® are available throughout your entire stay, helping you get settled in and organizing parties and shows. Entertainment includes events and activities centered around sports, music, and the culture of the local country.
Club Med G.Os®, experts at the biggest sports academy in the world
Stemming from different cultures and backgrounds, each Club Med G.O® is unique but united by a common goal: to make sure you have a great vacation. When you stay at Club Med, you also gain access to the world's largest sports academy, with activities such as the flying trapeze, tennis, golf, wakeboarding, water skiing, alpine skiing, mountain biking, and more. Famous for their training experience and expertise, G.Os® will help you select the right equipment and improve your technique. Discover new activities, learn the basics, or hone existing skills. Make the most of the expertise and professionalism of Club Med G.Os®, some of whom are top-level athletes in their disciplines.
Meet the experts at Club Med Resorts
Club Med G.Os®, specialists in the development of children
Going on vacation with your children? Entrust them to our G.Os® and unwind with total peace of mind. Proven professionals, the G.Os® at Baby Club Med®* are familiar with the specific needs of children under 2 years of age. Babies aged 4 to 23 months develop in the gentlest of settings. The G.Os® at Petit Club Med®* are highly experienced in the care and early learning of young children. Meanwhile, at Mini Club Med®, G.Os® become the best friends of kids aged 4 to 11. The G.Os® at Junior Club Med and Club Med Passworld® are experts in the supervision of teenagers. They serve as role models while providing for truly magical experiences. 
*At extra cost
Meet Gigi, Family G.O® at Club Med Serre-Chevalier
Related articles
Dance, concerts, magic, circus, etc. Be amazed by the jaw-dropping shows on offer during the Club Med Talent program. Get ready for a thrill-packed vacation.
Explore