Spaces adapted to each age group with activities for children and teenagers
Why choose Club Med for your next family vacation? Every child is considered a G.M® in their own right. They benefit from the expertise of friendly G.Os® and a tailor-made environment, allowing them to grow and have fun in the very best of conditions. Going on vacation with a baby? From 4 to 23 months of age, they'll thrive in the calm and reassuring setting of Baby Club Med®.* From 2 to 3 years of age, little ones will paint, dress up, and grow at Petit Club Med®.* From 4 to 10 years of age, older brothers and sisters will enjoy the fun, sporty, and educational activities on offer at Mini Club Med®, including the flying trapeze, sailing, and artistic and musical workshops. They'll even smile at you from the stage during a magic show! As for your teens, they'll share secrets around the pool before joining their friends at Junior Club Med and Club Med Passworld®. DJ classes, video workshops, and foosball create friendships and wonderful memories. In the evening, the entire family will meet up in the family room to recount the excitement of their day. *At extra cost
Your experience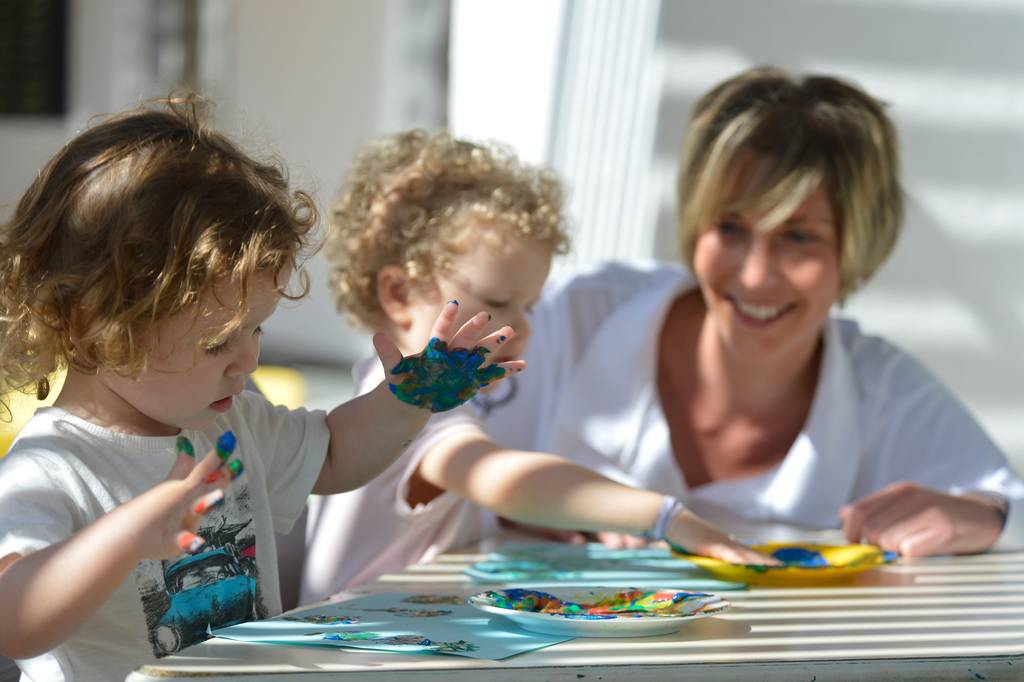 From 4 months to 3 years of age, your child will flourish in a calm and reassuring environment
For over 60 years, Club Med has been optimizing its childcare so your kids can learn more about the world around them and themselves. At Baby Club Med®,* little ones aged 4 to 23 months are pampered, cared for, and stimulated. The number of places is limited to ensure their wellbeing and safety. They'll discover lots of new materials, sounds, and colors. They'll also improve their motor skills on colorful paths and be enchanted by the surrounding nature. At mealtime, babies can eat with their G.Os® and the other children in the Baby Club®, or else share this moment with their parents. 
Created for 2 to 3-year-olds, Petit Club Med®* is a fun and reassuring space that offers your children the perfect balance between rest and exploration. They can paint, try gymnastics, dress up, star in shows, and invite you on a treasure hunt. They'll have fun revealing their talents and opening themselves up to others in an environment created especially for them. And you can join them whenever you like!
Because Club Med takes great care to cater to the needs of its guests, we offer your children personalized meals and a wide range of childcare options, both during the day and at night.* 
*At extra cost
From 4 to 10 years of age, talents are expressed and discoveries are shared
Mini Club Med®, for kids aged 4 to 10, is specially designed for that time in childhood when the most memorable and colorful vacation memories are made. Flying trapeze, waterskiing, arts & crafts, horseriding, music, snowboarding, and walks in nature: there's something new to learn for everyone.
Share special times with your children during shows, dances, and sports organized by G.Os® at Mini Club Med®. At our Family Experience Restaurants, your budding chefs will eagerly prepare their menu for the evening.* They'll love cooking for themselves, as well as trying their own sweet and savory creations! 
*Offer available at certain Resorts.
Make the best choices while on vacation with your children
From 11 to 17 years of age, teenagers are free to get together and have fun
From Junior Club Med to Passworld®, the order of the day for 11 to 17-year-olds is freedom. Depending on the Resort, your teens can take part in activities at their own pace, such as DJing, dance and video workshops, treetop adventure courses, foosball, and volleyball. Whatever the season, they'll discover new things and new skills with the help of their G.Os®. Comforted by the summer warmth, they can enjoy their favorite water sports, test their skills on the sports fields, or just chat by the pool. In the winter, teens can strap on their skis or snowboards to experience the joys of snow sports. Divided into groups based on ability, they'll tear down the slopes alongside their Ski School instructors. Lunch breaks with friends are the perfect time to socialize and tell stories about their exploits in the powder.
Check out our activities for teens
Related articles
Looking for a family ski vacation? Discover our all-inclusive resorts now.
Enjoy an awesome family vacation in the mountains this winter. Skiing, relaxation, activities...spend a memorable vacation surrounded by snow-covered peaks.
Explore