Flying trapeze and land sports
From walking to horseback riding and flying trapeze, the Club Med has a host of sports activities for you to choose form, whatever your age, skill or fancy.
Get into the swing of this amazing activity.
Fun sports
Have a really relaxing vacation with these fun and carefree activities: pétanque (Bocce Ball), darts, ping-pong, badminton, minifootball, minigolf, softball.
Group sports
If team spirit is your thing, make the most of your vacation to get together with friends and enjoy these all-time favorites: football, volleyball, beach volleyball, basketball, beach soccer, water polo, beach tennis and volleyball polo
Going cycling with family and friends is a great way to explore the Resort's surroundings.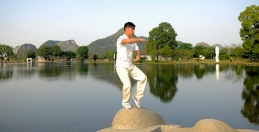 This "long life" discipline combines the spirit of martial arts and defence with relaxation, in the same intriguing movements.
Other sports
Tone up your vacation, do all the fitness activities you fancy: aquafitness - cardio splash - zumba - power walking - yoga.
SEARCH A RESORT
SEARCH BY SINGLE CRITERIA
By destination

By children's club

By available dates

By activities

By comfort level

By price bracket