Skiing & Winter sports for all
Whether you're a beginner or a seasoned skier, with Club Med you can ski or snowboard to your heart's content, whatever your level. Alone or with professionals, the joys of the slopes await you for an ideal winter sports vacation.

Small groups according to level of skill
Make real progress in a small group, with a maximum of 12 people divided according to level of skill. Included in your package
Professional instructors to guide you
Our exclusive partnerships with the French, Italian and Swiss Ski Schools are your guarantee of truly professional teaching, with personal tips to ensure you improve your style. Included in your package
For novice skiers
Make rapid pogress and get full benefit from your lessons, by starting the day after your arrival at the Resort (for 7-day stays).
Ski off-piste, in total safety! Professional instructors guide you on off-piste runs and routes reserved for skilled skiers. A vacation at the summit of excitement!
FREESTYLE SNOWBOARDING
What is it? Take a board, some boots and add some snow. It's you and the mountain. Let's ride!

Who's it for? The cool kids
DOWNHILL SKIING
What is it? Down-flex, compress, pistes of all colors, walls, slaloms, bumps, it all starts here!

Who's it for? Downhill junkies
SNOWSHOEING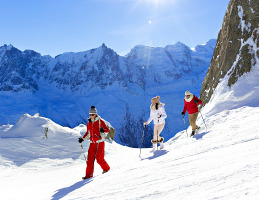 What is it? Buckle up. Fasten your biddings (to the bottom of your shoes) and you can go walking through the snow with proper grip!

Who's it for? Ahead-of-the-curve hikers
CROSS-COUNTRY SKIING
What is it? Originating from the North, it'll allow you to enjoy the countryside as you use ski poles to propel yourself along, striding forward or side-to-side.

Who's it for? Nature-loving sport addicts
SLEIGH RIDES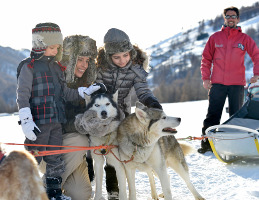 What is it? A wonderful ride, pulled along by our sleigh dogs. Now all you need is Bing Crosby.

Who's it for? Romantics
SNOW MOUNTAIN BIKING
What is it? Twists and turns, skids, jumps & breaks... ehn the pistes close, a whole new world opens up. Jump on and go!

Who's it for? Bike addicts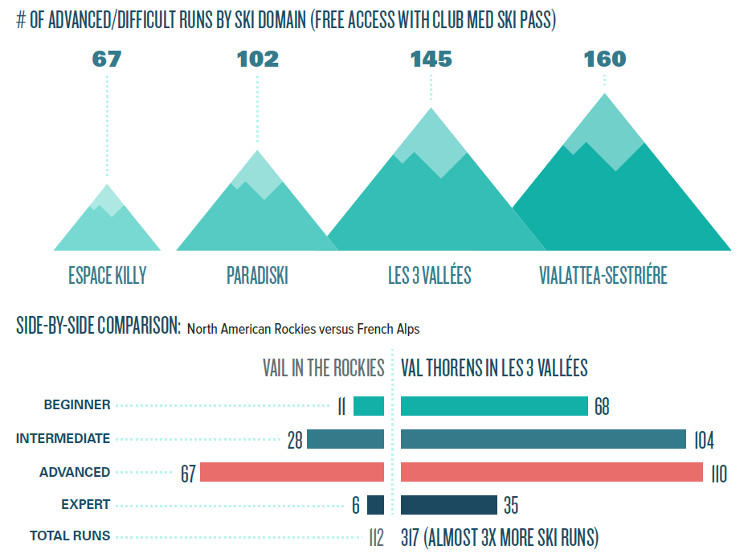 The Alps have some of the most exhilarating and challenging ski runs in the world.
SEARCH A RESORT
SEARCH BY SINGLE CRITERIA
By destination

By children's club

By available dates

By activities

By comfort level

By price bracket