For over 40 years, Club Med has been running children's clubs for babies through to teenagers. Qualified GOs with boundless enthusiasm ensure parents and children gain maximum benefit, guaranteeing happiness for children and peace of mind for parents .
Our Family Resorts in the world's most beautiful mountain environments provide excellent club facilities for all age ranges run by specialist GOs, to keep teenagers and children happy from morning to night.
Our Snow Garden
Skiing for little ones. From 4 to 6 years old, they learn to ski in a fun way, with specially devised circuits around fun figures and under hoops, and learn to use the "fil neige" ski lift. They can get their Ourson and Flocon badges.
From age 4 in our Family Resorts your children can enjoy Alpine skiing lessons all day long, with classes for all levels from novice through to competition level, and the chance to pass their tests and get their certificates*. A real winter sports vacation for the whole family!* At extra cost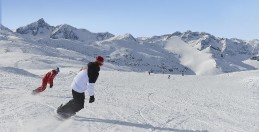 Youngsters who love their thrills will adore snowboarding. Aerial acrobats can perfect their style and learn new tricks in the snowpark. A sensational winter vacation in the true sense of the term!

Youngsters will love their mountain vacation! Specially devised for 11 to 17 year olds, the "Special Teenagers Ski Program" gives them the chance to try out all styles and techniques of Alpine skiing: free style (bumps and jumps, snowpark and faki), freeriding (skiing on the edge of the piste, through the forest and in the powder), speed skiing (kilometre lancé), slalom, skicross and jumping. An intense and free approach that teenagers adore.
SEARCH A RESORT
SEARCH BY SINGLE CRITERIA
By destination

By children's club

By available dates

By activities

By comfort level

By price bracket