Tignes Val Claret
France The Alps
Resorts with children's/teens' clubs: Families, couples, friends
Advanced skiing
Ski in ski out
Spa & Wellness
Included après-ski activities
Sports & Activities
In this Club Med resort, novices and experts can try out exciting new sports and sensations. Under the supervision of qualified instructors, enjoy the highest standards of equipment.
---
Espace Killy skiing domain: Tignes and Val d'Isere
Located at a height of between 11350 feet and 5085 feet.
96 ski lifts; 331 snow canons; snowpark

186 miles of slopes:
●16 black
●35 red
●64 blues
●22 green

At the beginning and/or end of the season, the access to Val D'Isere depends of the snow conditions. It is a free hand system to enable more fluidity at the lifts.
---
All the sensations of the ski slopes, at your own pace.

Professional ski instructors, who are perfectly familiar with the ski domain, will guide you over the slopes best suited to your level of skill, to ensure you progress safely but surely in the best possible conditions, in small groups of 12 people maximum.

●A test on the first morning will determine your level, and the right class for you:

> Beginners: this is your first experience of Alpine skiing
> Class 1: you can control your speed, and are at ease on blue slopes
> Class 2: you can negotiate red slopes at a reasonable speed
> Class 3: you are at ease on all slopes
> Expert: you are at ease on all types of terrain and snow


●Top quality equipment* and the Ski Service®*to ensure your satisfaction


●Organisation of tuition for a "standard" week:

From age 4, our group lessons last the whole day, for a period of 5 days and begin the day after main arrival day
> Ski lift pass included, valid for 6 days from the day after main arrival day
NB: if you wish to ski on your day of arrival, you can purchase a one-day pass, on site.


> To guarantee beginners' progress, they are expected to start lessons the day after arrival at the Resort.
> For short days during the week and weekends, there are no lessons scheduled, unless you arrive on main arrival/departure day.

●Class 1: you can regulate your speed and your trajectory on blue runs
●Class 2: you ski at an average speed on red runs
●Class 3: You ski easily down all slopes
●Expert: You ski easily on any slopes and on any kind of snow

Our group lessons are done on a daily basis during 5 days.
For a weeks stay:
The lessons start the day following the main arrival day.
If you wish to ski on arrival, you can purchase a ski pass for the day directly on site.br>
For stays of one week:
Classes begin the day after the main day of arrival.If you wish to ski on your arrival day, you can purchase on site a one day lift pass




LOOK UP THIS ACTIVITY
---
In Tignes, make the most of snowboarding.

Our group snowboarding classes are proposed by the day for five days.

Instructors,snowboard professionals having a perfect knowledge of the skiing domain will guide you along the slopes adapted to your level to enable you to make progress in the best conditions and in total security.Available from age 8 during school vacations (1), outside of these date you must be 12 years old.

●The first morning , you will take a test in order to establish your level in order to put you in to the right group:

●Beginners class: you have never snowboarded before
●Class 1: you can regulate your speed and your trajectory on blue runs
●Class 2: you board at an average speed on red runs
●Class 3: You board easily down all slopes
●Expert: You board easily on any slopes and on any kind of snow

For stays of one week:
Classes begin the day after the main day of arrival. If you wish to board on your arrival day, you can purchase on site a one day lift pass

No snowboarding tuition available on weekend (Friday evening to Sunday) or long weekend (Thursday evening to Sunday) stays.

(1)School vacations:
from 23 December 2013 to 1 February 2014
from 17 February to 15 March 2014
br>
from 7 to 26 April 2014
LOOK UP THIS ACTIVITY
---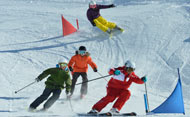 Special Teens Skiing
Included in your package
As of age 11,a special teen ski program is available to skiiers of level three to switch between several techniques during the week.

With the professional skiing instructors, specially trained to deal with youngsters, they build together a program for the week. They can, in all security, switch between skis and snowboards learning new techniques as they go along, they will have the use of high end equipment, available for rental at the Ski Service. On the program:
● Free style: jumps, bumps, snow park... Discover the mountain in a different way: ski on the edge of the slopes, in the forest... ● Slalom ● Ski cross ● Giant

For your information, the program of the week is established by the group, the snow conditions and also the weather.
Multi Snow Sports Program is proposed from 11 years old, at the following periods:
23 December 2013 to 1 February 2014
17 February to 15 March 2014
7 to 26 April 2014
---
And also…
---
---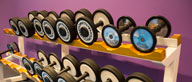 > SPORTS Included in your package:
Free access : Weight room Advanced : Special Teens Skiing Group lessons for all levels : Alpine Skiing , Snowboard Group lessons for beginners : Club Med Fitness , Pilates
---
---
---
* At an additional charge