Tignes Val Claret
France The Alps
Resorts with children's/teens' clubs: Families, couples, friends
Advanced skiing
Ski in ski out
Spa & Wellness
Included après-ski activities
Children & Teens
Our resort welcomes children of all ages with supervision, by trained professionals, for each age group.

● Privileged areas , specifically designed for them.
●All equipment is adapted for their comfort and safety.
●The opening times are adapted so that the parents can make the most of their day, evening or even go on an excursion with total peace of mind.
● Inovative children's programs, strong of over 40 years experience, respectful of the whims and rhythm of each child.
● Passionate G.O®s
● Ski and snowboard lessons are provided by professional instructors.

Possibilities of taking professional ski and snowboard diplomas

For your information: For the confort and security of each child and following French legislation, a medical certificate must be provided for each child aged under 6 years old, that certifies that the child presents no counter indication to living in a group and participating in group activities.Closed on Sundays
---
Childcare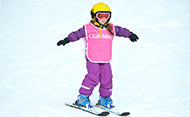 Mini Club Med® (from 4 to under 11 years old)
Included in your package
Be creative and active...

Between 4 and 10 years old, children want to do it all, and Mini Club Med has thought of everything to satisfy this seemingly random need for discovery. Divided into sub-groups according to their age, the children have a full schedule, including sporting, playful, and creative activities

Open 6 days in 7 all year round, 8:30am - 9pm, with an hour long shower break before dinner.

Access conditions :
Duration : From 8.30 am to 5 pm and from 7 pm to 9 pm, 6 days a week
Minimum age : 4 year(s)
Maximum age : 10 year(s)
From 4 to under 11 years old

---
Juniors Club Med (11 to 17 years old)
Included in your package
Teenagers, independence and partying...

For 11 - 17 year olds, Club Med offers everything but leaves them complete freedom to choose: a uniquely free frame of mind that teenagers love. The Juniors' Club Med also enables teenagers to hang out together, to take part in activities according to individual preferences, and participate in the life of the resort.For your information: Available during the following dates:

December 24th 2012 to February 10th 2013
February 11th to March 16th 2013
April 1st to May 4th 2013
Access conditions :
Duration : 6 days out of 7
Minimum age : 11 year(s)
Maximum age : 17 year(s)
The Juniors Club Med (11 to 17 years old) is available at the following dates:
From 12/21/2015 to 01/02/2016
From 02/08/2016 to 03/05/2016
From 03/28/2016 to 04/30/2016

---
Hotel services for your well being
BABY SITTING*
BABY SITTING*
To enjoy a moment to the full in complete freedom, take advantage of the baby-sitting service. Information in reception
SNOW GARDEN
SNOW GARDEN
From 4 years old, participants learn to ski, with circuits around figurines and under hoops; they learn to use the ski tow and snow lift.

---
Exclusively for your children
Teen Spa*
Teen Spa*
Club Med Spa by PAYOT now proposes specific beauty treatments for teenagers (excluding massage**), at set times in the day, to introduce them to the World of Wellness. An experience to try on your own, with Mum or with your friends.
Reservations on site only.

** For information:
The term "massage" implies a superficial manipulation of the face or body, solely for aesthetic purposes, sometimes to ensure good penetration of a cosmetic product, or for comfort. The massage referred to is an external massage of the skin, with no medical or therapeutic aim. It may be done manually or with mechanical aids, exclusively by qualified, trained professionals.

Access conditions :
Minimum age : 11 year(s)
Maximum age : 17 year(s)

---
* At an additional charge