Rio Das Pedras
Brazil Caribbean & Coasts of the Americas
Resorts with children's/teens' clubs: Families, couples, friends
Water-skiing
tennis
Eco Nature Village by Club Med
Children & Teens
Our Resort welcomes children of all ages with supervision, for each age group

● Privileged areas, specificly designed for them
●Equipment adapted to their comfort and security
●Opening hours enabling the parents to make the most of their day and evening and even leave on an excursion* with total peace of mind
● Strong of an experience of over 40 years, we offer innovative and fun activities that respect the rhythms of each child. Closed on Sundays.
---
Childcare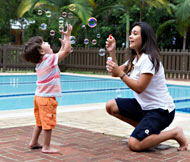 Petit Club Med® (from age 2 to 3 years old)
Optional Extra*
At this age, we are no longer a baby, but we still need to be closely monitored.

It's the time for those first discoveries: the leisure of waking, walking and outdoor play, a full and balanced lunch (especially designed for the needs of the young), a nap or quiet time, creative activities and of course, snack time, a true feast for those with a sweet tooth!

The activities follow the progress of children, distributed into age groups. From 7.30 pm, after dinner with parents, children return to the Petit Club Med®. While the parents have a peaceful dinner, the young ones finish their day with a calm evening.



Access conditions :
Duration : From 9 am to 5.30 pm and from 7.30 pm to 9 pm, 6 days a week
Minimum age : 2 year(s)
Maximum age : 3 year(s)
Children must be up to date with their diphtheria, tetanus and polio jabs. On your arrival at the Resort, you'll be required to present a document showing the child's health record.

Diapers and formula are not provided by Baby Club Med®.

---
Mini Club Med® (from age 4 to 10 years old)
Included in your package
Creating and letting off steam. At these ages, children are hungry for everything... The Mini Club Med® has thought of everything to fulfil this constant need for new experiences. Sports, fun and creative activities. Children are divided into subgroups by age. Shower break an hour before dinner.

Access conditions :
Duration : From 9 am to 5.30 pm and from 7 pm to 9 pm, every day
Minimum age : 4 year(s)
Maximum age : 10 year(s)
From 4 to under 11 years old

---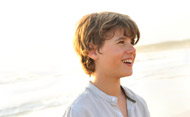 Juniors Club Med® (From 11 to under 18 years old)
Included in your package
Available only during school vacations.
Tweens and teens have their Junior Club Med and its numerous and diverse activities; specialized GO's chosen for their knowledge of this age group propose several activities to choose from. The only order: Have fun together whilst respecting everyones need to be independent!

Access conditions :
Duration : 6 days out of 7
Minimum age : 11 year(s)
Maximum age : 17 year(s)
From 11 to under 18 years old



Teen agers are under the responsability of the GOs only during the organized activities.
Only available during brasilian school vacations


December 17th 2011 to March 2nd 2012
March 31st to April 15th 2012
---
Hotel services for your well being
BABY FEEDING ROOM
BABY FEEDING ROOM
Open 24 hours a day, it contains the necessary facilities for preparing meals: blender, steriliser (provided on request only), microwave, refrigerator, bottle warmer (provided automatically in the room for G.Ms® who book a Baby Club Med® or Club Med Baby Welcome® service), and supplementary products such as mineral water, fruit, UHT full-cream and semi-skimmed milk (formula is not provided).
BABY CORNER
BABY CORNER
This baby corner, located in the main restaurant offers food adapted to the little ones as well as the utensils to prepare it yourself if needed.
BABY SITTING*
BABY SITTING*
To enjoy a moment to the full in complete freedom, take advantage of the baby-sitting service.
CLUB MED BABY WELCOME® (FROM BIRTH TO 23 MONTHS OLD)
CLUB MED BABY WELCOME® (FROM BIRTH TO 23 MONTHS OLD)
The little darlings feel right at home thanks to this service, included in your Package. Everything has been thought of as concerns the babies' comfort and the parents' well-being. Available in the room: baby bed, baby bath, changing table , high chair ( on request)bottle warmer, strollers.

A baby corner is also available in the main restaurant to prepare the baby's food.
---
Exclusively for your children
Petit Chef Program®
Petit Chef Program®


Access conditions :
Minimum age : 4 year(s)
Maximum age : 10 year(s)

---
* At an additional charge