Punta Cana
Dominican Rep Caribbean & Coasts of the Americas
Resorts with children's/teens' clubs: Families, couples, friends
tennis
Flying trapeze
Fitness
Golf
Spa & Wellness
Children & Teens
Our Resort welcomes children of all ages with supervision, by trained professionals, for each age group.

● Privileged areas , specifically designed for them.
● All equipment is adapted for their comfort and safety.
● The opening times are adapted so that the parents can make the most of their day, evening or even go on an excursion with total peace of mind.
● Inovative children's programs, strong of 40 years experience, respectful of the whims and rhythm of each child.
●Passionate G.O®s
For your information this is closed on Saturdays.
---
Childcare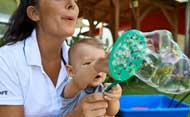 Baby Club Med® (from 4 months to 23 months old)
Optional Extra*
Your babies will be taken care in total security by our dedicated and professional GO's.

Personalized welcome, after breakfast with your family, activities, meals, siesta, cuddles:the Baby Club Med® program conciles gentleness and security and respect of each childs biological rhythm. From 6.30pm, the Baby restaurant welcomes babys and their parents to enjoy dinner together.

For your information: diapers and formula are not provided in Baby Club Med®.

Access conditions :
Duration : From 9.00am to 5.30pm, 6 days out of 7
Minimum age : 4 months
Maximum age : 23 months
Children must be up to date with their diphtheria, tetanus and polio jabs. On your arrival at the Resort, you'll be required to present a document showing the child's health record.

Diapers and formula are not provided by Baby Club Med®.

---
Club Med Passworld® (from 11 to 17 years old)
Included in your package
The Club Med Passworld® proposes everything but imposes nothing; an approach that delights teenagers. It provides them with an exclusive area dedicated to meeting others and expressing oneself not far from the centre of the Resort.
The exclusive area in this Resort is The Lab at the Ramp. Here the teenagers can discover creative, sport and artistic activities such as: dancing lessons, video editing,DJ lessons, theatre, etc., have fun or turn up for the pleasure of just hanging out. The teenagers are divided into two age-groups 11 to 13 years old and 14 to 17 years old.For your information the Ramp is open all year round.

Access conditions :
Duration : 6 days out of 7
Minimum age : 11 year(s)
Maximum age : 17 year(s)

Teen agers are under the responsability of the GOs only during the organized activities.

---
Hotel services for your well being
BABY FEEDING ROOM
BABY FEEDING ROOM
Open 24 hours a day, it contains the necessary facilities for preparing meals: blender, steriliser (provided on request only), microwave, refrigerator, bottle warmer (provided automatically in the room for G.Ms® who book a Baby Club Med® or Club Med Baby Welcome® service), and supplementary products such as mineral water, fruit, UHT full-cream and semi-skimmed milk (formula is not provided).
BABY CORNER
BABY CORNER
This baby corner, located in the main restaurant of the Village, offers food suitable for little ones (sweet and savoury baby foods with utensils required to prepare the meals).
BABY SITTING*
BABY SITTING*
To enjoy a moment to the full in complete freedom, take advantage of the baby-sitting service. For your information: a list of babysitters is available, but Club Med is not responsible for this service.
CLUB MED BABY WELCOME® (FROM BIRTH TO 23 MONTHS OLD)
CLUB MED BABY WELCOME® (FROM BIRTH TO 23 MONTHS OLD)
The little darlings feel right at home thanks to this service, included in your Package. Everything has been thought of as concerns the babies' comfort and the parents' well-being. Available in the room: baby bed, baby bath, changing table , high chair ( on request)bottle warmer, strollers.

A baby corner is also available in the main restaurant to prepare the baby's food.
PLAYGROUND
PLAYGROUND
The playgrounds, which are separate from the supervised children's facilities, are accessible to young children accompanied by their parents.
---
Exclusively for your children
"Teen Spa"*
"Teen Spa"*
The Club Med Spa by COMFORT ZONE opens it's doors to teens.
A specific menu of beauty treatments (no massages**) is available at certain times to get them to discover the world of well being.
Booking on site only.

**For your information, our massages are non medical and non paramedical. They are well being treatments and non therapeutic. The word "massage" can also mean a body sculpt technique, done by our professional practitioners or our beauty therapists. '

Access conditions :
Minimum age : 11 year(s)
Maximum age : 17 year(s)

Baby Gym
Baby Gym
Babies explore movement - crawling, climbing and sliding - on this fun circuit created specially for them.
For information: this activity is run by GOs, at the Petit Club Med® only.

Access conditions :
Minimum age : 4 months
Maximum age : 3 year(s)

Clean Art Planet at Mini Club Med®
Clean Art Planet at Mini Club Med®
Clean Art Planet raises children's awareness of the environment. This original activity focuses on the objects that find their way into the sea and are then rejected by the waves: plastic bags, bottles, flip flops, and so on are used in a series of workshops that focus on art and colour, putting emotion in the limelight rather than right and wrong!
Once the objects have been collected from the beaches by adults, sorted according to object and colour and washed, the Mini Club Med® can get on with the creative side of the activity, during which the children invent objects and stories, do photography, create large-scale works of art and put on exhibitions.
The activity is run by GO®s. *For Club Med Resorts that are not by the sea, the objects used are recyclable waste such as disposable cups, straws, corks, etc, from the Resort kitchens and bars.

Access conditions :
Minimum age : 4 year(s)
Maximum age : 10 year(s)

Petit Circus
Petit Circus
Circus workshops for children from 4 to 6 years old at Mini Club Med®, to discover the joys of the circus in small groups, with G.O®s trained in their discipline. The children take part in a show, where they can demonstrate what they have learnt

Access conditions :
Minimum age : 4 year(s)
Maximum age : 5 year(s)

Petit Golf
Petit Golf
A half hour lesson with equipment, facilities and method devised specifically for children.

Access conditions :
Minimum age : 8 year(s)
Maximum age : 9 year(s)

Petit Hockey
Petit Hockey


Access conditions :
Minimum age : 4 year(s)
Maximum age : 6 year(s)

Petit Soccer
Petit Soccer
30 minute lesson totally adapted to children.

Access conditions :
Minimum age : 3 year(s)
Maximum age : 7 year(s)

Petit Tennis
Petit Tennis
Based on role play, the children get to learn the basics of tennis at Petit Club Med*® and Mini Club Med®.

Access conditions :
Minimum age : 3 year(s)
Maximum age : 4 year(s)

Zumbatomic®
Zumbatomic®
Zumbatomic® was specially devised for children aged from 4 to 11 years old, to introduce them to the notion of healthy lifestyle through dance and fitness.
A fusion of salsa, reggaeton, hip-hop and workout with specially choreographed routines to their favourite music.

Access conditions :
Minimum age : 4 year(s)
Maximum age : 10 year(s)

---
* At an additional charge