Punta Cana
Dominican Rep Caribbean & Coasts of the Americas
Resorts with children's/teens' clubs: Families, couples, friends
tennis
Flying trapeze
Fitness
Sailing
windsurfing
Spa & Wellness
Wellness Centre
The Club Med Spa by L'OCCITANE is a sublime experience for the senses.

This Club Med Spa is located right by the beach, and has:
● 9 individual treatment rooms with air-conditioning ● One "duo" room for tandem treatments.

● 2 individual palapas facing the sea ● A Zen area (relaxation room and tea room) ● One freshwater pool

The minute you enter the Club Med Spa by L'OCCITANE, you enter a world where beauty, well-being and relaxation reign supreme.

All our treatment programmes are organised around a theme.

Put yourself in the gentle hands of our beauty and massage therapists, and let your senses take over.

Choose from a wide range of beauty treatments and a range of beauty products using natural ingredients. Fatigue and tension will give way to a delightful sensation of well-being and serenity.
The majority of our packages are designed for both men and women.

**For information: all the massage techniques available in our Spas are designed to enhance beauty and well-being. We do no medical, para-medical or therapeutic massages. The term "massage" can also refer to a variety of body-sculpting techniques, by qualified but non-medical massage therapists.
OUR ALL-INCLUSIVE PACKAGES
Personalized Well Being Escapade - 1 day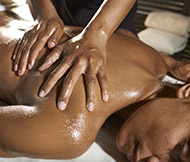 Made to Measure
The freedom to choose: 4 hours' treatment of your choice from our selection of L'OCCITANE treatments proposed at the Spa:

● 4 treatments (60') of your choice.

Must be booked with your main holiday reservation.
> Page top
---
You can reserve our Spa packages at the time of reservation
* At an additional charge