Phuket
Thailand Asia & Indian Ocean
Resorts with children's/teens' clubs: Families, couples, friends
Flying trapeze
Golf
Wellness Centre
Club Med Spa by PAYOT, the perfect combination of beauty and pleasure.

In the heart of the tropical gardens, this Club Med Spa offers:

• 7 treatment rooms
• Loan of bathrobes
Let your 5 senses go, under the gentle touch of our professional practitioners.
At your own pace, discover a wide range of massages and treatments done with various techniques. Tiredness and stress will leave place to relaxation and well being.

For your information, our massages are non medical and non paramedical. They are well being treatments and non therapeutic. The word massage can also mean a body sculpt technique, done by our professional practitioners or our beauty therapists.
OUR ALL-INCLUSIVE PACKAGES
We can also offer you:
> Turkish bath
You'll find, at extra cost: • 1 mixed Turkish bath (maximum 8 people)
• 1 mixed Turkish bath (maximum 4 people)

Enjoy a moment of true relaxation in the Turkish Bath. The temperature in this steam bath goes up to around 50°C; it helps sweat out toxins, facilitates exfoliation and produces a profound feeling of well-being and relaxation. There are a few precautions and contra-indications to be observed.
> Whirlpool bath
You'll find, at extra cost :
• 1 whirpool bath.

A moment of sheer relaxation thanks to the relaxing, massage effect of a bath with wonderfully hot, bubbling water.
A Touch of Thailand for Two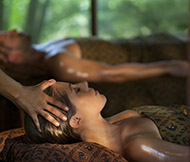 Relaxation A wellness sharing moment.
4 treatments per person For each partner: • 1 Aromatic Herb Steam Treatment (30') • 1 Body Exfoliation (30') • 1 Body Massage (60') • 1 Facial (60')
> Page top
---
Body & Soul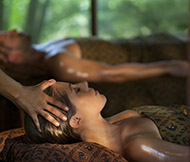 Relaxation The pleasure of picking your 2 and a half hours of treatments per day, as and how you like.
9 treatments • 3 Body Exfoliations (30') of your choice • 3 Massages (60') of your choice • 3 Facials (60') of your choice
> Page top
---
Club Med Paradise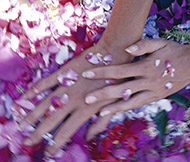 Beauty To restore your skin's radiance and softness.
5 treatments • 1 Aromatic Herb Treatment and Whirlpool bath (30') • 1 Body Exfoliation (30') • 1 Body Wrap (30') • 1 Body Massage (60') • 1 Facial (60')
> Page top
---
Regeneration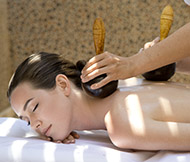 Energy To get your fill of energy at your own pace, 3 hours of treatments per day.
20 treatments • 5 Body Exfoliations (30') of your choice • 5 Body Wraps (30') of your choice • 5 Aromatic Oil Massages (60') of your choice • 5 Facials (60') of your choice
> Page top
---
Relaxation massage
Relaxation A moment of sheer relaxation.
1 treatment • 1 Body Massage (60')
This massage is not part of the PAYOT Spa treatments
> Page top
---
Spa Experience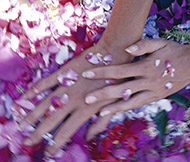 Beauty To combine vitality with beauty.
2 treatments
• 1 Facial (60') • 1 Body Massage (60')
> Page top
---
Spa Indulgence
Energy A privileged moment of self-indulgence.
4 treatments • 1 Plantar Reflexology (30') • 1 Exfoliation (30') • 1 Body Massage (60') • 1 Facial (60')
> Page top
---
Traditional Thai massage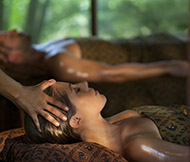 Relaxation A relaxing moment in the pure Thai tradition.
1 treatment • 1 oil-free massage (90')
This massage is not part of the PAYOT Spa treatments
> Page top
---
You can reserve our Spa packages at the time of reservation
* At an additional charge