Palmiye
Turkey Mediterranean & Atlantic Coasts
Resorts with children's/teens' clubs: Families, couples, friends
Sailing
tennis
Flying trapeze
windsurfing
Fitness
Spa & Wellness
Children & Teens
Our Resort welcomes children of all ages with supervision, by trained professionals, for each age group.

● Privileged areas , specifically designed for them.
● All equipment is adapted for their comfort and safety.
● The opening times are adapted so that the parents can make the most of their day, evening or even go on an excursion with total peace of mind.
● Inovative children's programs, strong of 40 years experience, respectful of the whims and rhythm of each child.
●Passionate G.O®s
For your information this is closed on Saturdays
---
Childcare
Petit Club Med® (from age 2 to 3 years old)
Optional Extra*
At this age, we are no longer a baby, but we still need to be closely monitored.

It's the time for those first discoveries: the leisure of waking, walking and outdoor play, a full and balanced breakfast (especially designed for the needs of the young), a nap or quiet time, creative activities and of course, snack time, a true feast for those with a sweet tooth! The activities follow the progress of children, distributed into age groups. From 7.30 pm, after dinner with parents, children return to the Petit Club Med®. While the parents have a peaceful dinner, the young ones finish their day with a calm evening.

For your information: Diapers and formula are not provided at the Petit Club Med®.

Access conditions :
Duration : From 9.00am to 5.30pm, 6 days out of 7
Minimum age : 2 year(s)
Maximum age : 3 year(s)

---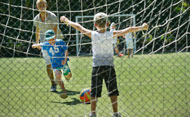 Mini Club Med® (from age 4 to 10 years old)
Included in your package
Create and let off steam. At this age, children have a thirst for everything... The Mini Club Med® has planned everything to respond to this need of discovery in all directions. Sport, fun and creative activities. Children are distributed into sub-groups according to their age. One hour shower stop before dinner.

Access conditions :
Schedule : From 8.45 am to 5.30 pm and from 7 pm to 9 pm
Duration : From 9.00am to 5.30pm, 6 days out of 7
Minimum age : 4 year(s)
Maximum age : 10 year(s)
From age 4 to 11 years old

---
Club Med Passworld® (from 11 to 17 years old)
Included in your package
The Club Med Passworld® proposes everything but imposes nothing; an approach that delights teenagers. It provides them with an exclusive area dedicated to meeting others and expressing oneself not far from the centre of the Resort. in this Resort it is known as La Costumerie The exclusive area in this Village is La Costumerie. Here the teenagers can discover creative, sport and artistic activities such as: lessons in dance, video, mixing, film, theatre, etc., have fun or turn up for the pleasure of just hanging out. They are divided into two age-groups. Available from :

April 1st to May 4th 2012
June 3rd to September 14th 2012
Ocotber 7th to November 9th 2012
Access conditions :
Schedule : From 9 am to 5.30 pm and from 7 pm to 9 pm
Duration : 6 days out of 7
Minimum age : 11 year(s)
Maximum age : 17 year(s)
---
Hotel services for your well being
BABY FEEDING ROOMS
BABY FEEDING ROOMS
Open 24/24, it provides all the utensils necessary for preparing meals: mixer, sterilizer (provided only on request), microwave, fridge, bottle warmer (systematically provided in the room for the G.M.® who have reserved a Baby Club Med® or Club Med Baby Welcome® service), and additional products such as mineral water, fruits, full-fat and semi-skimmed long-life milk (formula milk not provided). Available for you: - 1 in the hotel - 2 in the Villagio
BABY CORNER
BABY CORNER
This baby corner, located in the main restaurant offers food adapted to the little ones as well as the utensils to prepare it yourself if needed.There are two baby corners in the Resort ( one in each restaurant)
BABY SITTING*
BABY SITTING*
To enjoy your freedom to the full, make the most of the baby-sitting service.
CLUB MED BABY WELCOME® (FROM BIRTH TO 23 MONTHS OLD)
CLUB MED BABY WELCOME® (FROM BIRTH TO 23 MONTHS OLD)
The little darlings feel right at home thanks to this service, included in your Package. Everything has been thought of as concerns the babies' comfort and the parents' well-being.
PLAYGROUND
PLAYGROUND
The playgrounds independent of the supervised structures for children are accessible to children accompanied by their parents.
PYJAMAS CLUB®*
PYJAMAS CLUB®*
The Pyjamas Club® is a group babysitting service (no specific activities). It enables parents to leave their children with a team of experienced and qualified G.O®s in a dedicated area with all the necessary comforts (beds, couches, video area, etc).
---
Exclusively for your children
"Teen Spa"*
"Teen Spa"*
The Club Med Spa by CARITA opens it's doors to teens.
A specific menu of beauty treatments (no massages**) is available at certain times to get them to discover the world of well being.
Booking on site only.

**For your information, our massages are non medical and non paramedical. They are well being treatments and non therapeutic. The word "massage" can also mean a body sculpt technique, done by our professional practitioners or our beauty therapists.

Access conditions :
Minimum age : 11 year(s)
Maximum age : 17 year(s)

Clean Art Planet at Mini Club Med®
Clean Art Planet at Mini Club Med®
Clean Art Planet raises children's awareness of the environment. This original activity focuses on the objects that find their way into the sea and are then rejected by the waves: plastic bags, bottles, flip flops, and so on are used in a series of workshops that focus on art and color, putting emotion in the limelight rather than right and wrong!
Once the objects have been collected from the beaches by adults, sorted according to object and color and washed, the Mini Club Med® can get on with the creative side of the activity, during which the children invent objects and stories, do photography, create large-scale works of art and put on exhibitions.
The activity is run by GO®s. *For Club Med Resorts that are not by the sea, the objects used are recyclable waste such as disposable cups, straws, corks, etc, from the Resort kitchens and bars.

Access conditions :
Minimum age : 4 year(s)
Maximum age : 10 year(s)

Happy Nature Box at Mini Club Med®
Happy Nature Box at Mini Club Med®
At Mini Club Med®, "Happy Nature Box" invites children aged 4 to under 11 to discover nature through three fun activities:
Happy Nature Box "exploration": to show children the wonders of nature at Club Med… from the tiniest insect to the brightest star!
Happy Nature Box "energy": through the natural energy of Water, Wind, Earth and Sun, children will learn to get their fill of positive energy!
Happy Nature Box "music": to give the children the chance to try out their musical skills…. They take part in a "fanfare of Nature"!
Activity run by G.O®s.
Access conditions :
Minimum age : 4 year(s)
Maximum age : 10 year(s)
Petit Circus
Petit Circus
Circus workshops at Mini Club Med® for children aged 4 to 6. With G.O®s trained in their discipline, they get to discover the joys of the circus in small groups, and take part in a show where they can demonstrate their skills.

Access conditions :
Minimum age : 4 year(s)
Maximum age : 5 year(s)

---
* At an additional charge