La Plagne 2100
France The Alps
Resorts with children's/teens' clubs: Families, couples, friends
Advanced skiing
Ski in ski out
Included après-ski activities
Spa & Wellness
Children & Teens
With the benefit of over 40 years' Club Med experience behind it, our Resort proposes innovative clubs for children and teenagers:

- Dedicated areas specifically designed for their needs, and equipment designed with a view to comfort and safety

- G.O®s with a passion for their job(1)

- Skiing or snowboard lessons given by professional ski instructors, creative activities and games for the different age groups

- Opening hours that allow parents to make the most of their day's skiing, and respect the children's desires and sleeping patterns

For information: the children's clubs are open all week, except Sunday.

(1)In France, G.O®s with a BAFA (State diploma for youth group leaders) or childcare qualification, depending on the age of the children; in other countries, an equivalent local diploma or relevant experience.

---
Childcare
Petit Club Med® (2 to 3)
Optional Extra*
At this age, they're no longer babies, but they still need close supervision

It's the age of first discoveries, so Petit Club Med proposes early learning activities, walks and outdoor games; a well-balanced lunch devised specially for the needs of growing children followed by a nap or quiet time, creative activities, and of course tea time, always a favourite moment of the day!

The activities follow the children's progress, divided into age groups. From 7.30 pm, after dinner with their parents, they go back to the Petit Club Med®. While parents enjoy a quiet dinner, the children can enjoy their own evening with their friends.

For information:

The adult accompanying the child must be able to show that he/she meets the minimum vaccination requirements for children (child health record or medical certificate).
Diapers and formula are not provided by Petit Club Med®.
Access conditions :
Duration : From 8.30 am to 5 pm and from 7.30 pm to 9 pm, 6 days a week
Minimum age : 2 year(s)
Maximum age : 3 year(s)
---
Mini Club Med® (4 to 10)
Included in your package
Be creative and active...

Between 4 and 10 years old, children want to do it all, and Mini Club Med has thought of everything to satisfy this seemingly random need for discovery. Divided into sub-groups according to their age, the children have a full schedule, including sporting, playful, and creative activities

Open 6 days in 7 all year round, 8:30am - 9pm, with an hour long shower break before dinner.

Access conditions :
Duration : From 8.30 am to 5 pm and from 7 pm to 9 pm, 6 days a week
Minimum age : 4 year(s)
Maximum age : 10 year(s)

---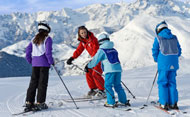 Juniors' Club Med® (11 to 17)
Included in your package
Teenagers can meet up and take part in the activities that interest them most, in the company of their G.O®:

Sports activities: Alpine skiing or snowboarding lessons or, during school vacations, the Multi Snow Sports program
Artistic activities: shows, crazy signs
Evening: entertainment, films, shows
Access conditions :
Duration : 6 days out of 7
Minimum age : 11 year(s)
Maximum age : 17 year(s)
Teenagers are the responsibility of their G.O®s only for the duration of the activities organized specifically for them.
The Juniors' Club Med® (11 to 17) is available at the following dates:
From 12/19/2016 to 01/07/2017
From 02/06/2017 to 03/04/2017
From 03/13/2017 to 03/18/2017
From 04/03/2017 to 04/22/2017

---
Hotel services for your well being
BABYSITTING*
BABYSITTING*
To enjoy a moment in total freedom, make the most of our baby sitting service.

Information in reception and/or the Tourism Office to be put in contact with local baby sitters
SNOW GARDEN
SNOW GARDEN
From 4 years old, participants learn to ski, with circuits around figurines and under hoops; they learn to use the ski tow and snow lift.

---
Exclusively for your children
Learning to ski and the pleasures of snow course*
Learning to ski and the pleasures of snow course*
For 3-year olds, this course is proposed by Petit Club Med®; it comprises 3 hours tuition per day for 5 days, in the Snow Garden at Club Med.
- The children are prepared in the Ski Room, by the Petit Club Med® G.O®s, who accompany them throughout the course
- Lessons given by the ESF (French Ski School) instructors
- Children can take their first French skiing diploma and get their Piou-Piou medal
- Inclusive of equipment rental
- Book as an addition to the Petit Club Med® services.


Access conditions :
Duration : 5 days
Minimum age : 3 year(s)
Maximum age : 3 year(s)

---
* At an additional charge