Kani
Maldives Asia & Indian Ocean
Scuba diving
Spa & Wellness
Sports & Activities
A Resort where refinement is everywhere. Relaxation and sport offered in a laid-back ambience.
---
Eurodivers scuba-diving centre

Within or beyond the lagoons, a huge variety of corals and sea-fans, where sharks, grouper fish, manta rays and stingrays, lion-fish, and moray eels create a vast natural aquarium to visit.

All dives are drift dives, along the coral reefs (thilas) or through passes.

Location: Indian ocean, in the north Malé atoll
Type of dive: drift
Number of spots: 20 (average transfer time on site: 40 min)
Depth: from 6 to 25 m

Some examples of diving spots:

● Banana reef (9-30 m)famous for its shoals of reef fish, soft coral and Napoleon fish.
● Furana Thila (from 12 to 30 m), a wide variety of fauna such as white-tipped or nurse sharks.
● HP Reef (from 12 to 30 m), a thila with shoals of reef fish, eagle rays and turtles.
● Nassimo Thila (from 15 to 30 m), a show dive where the actors are stingrays, barracudas, and turtles
● Okobe Thila (from 16 to 30 m), to meet young fishes, white-tipped sharks, barracudas


LOOK UP THIS ACTIVITY
---
With boat trips.


LOOK UP THIS ACTIVITY
---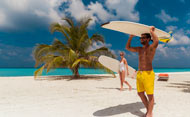 Surf
Optional Extra*
Discover this new activity offered by by the Discovery Centre at Club Med Kani.

Experience one of the most outstanding surfing destinations and enjoy surfing amongst tropical beaches, reefs and idyllic surrounds. Ideally located a few steps away from the well-known Ninja break, Club Med now offers a surfing excursion to the neighbouring surf spots.

A two-hour excursion. Club Med also offers equipment rental.


---
The Sports Schools propose the best equipment and facilities for sailing enthusiasts.

● Quality teaching by G.O®s trained in their discipline, to introduce beginners to the sport and enable experienced sailors to perfect their technique

● Group lessons 6 days a week give you the chance to make real progress and master your movements.
For information:
> from 8 years old, accompanied by an adult
● Full equipment for each age group.
Given as an indication, subject to availability: > Multihulls (Hobie Wave)

For security reasons, water activities are proposed when weather conditions allow.


LOOK UP THIS ACTIVITY
---
These new transparent kayaks give you a real close-up of the sea bed.
On board your comfy, stable, glass-bottom kayak, you'll discover the underwater fauna and flora in a truly spectacular way.



LOOK UP THIS ACTIVITY
---
And also…
---
---
> SPORTS Included in your package:
Free access : Badmington , Basketball , Beach soccer , Beach volleyball , Volleyball , Water polo , Club Med Gym Cardio training room , Kayak , Transparent bottom kayak Group lessons for all levels : Snorkeling Group lessons for beginners : Yoga , Aquafitness , Sailing school
---
---
---
* At an additional charge