Kabira Ishigaki
Japan Asia & Indian Ocean
Resorts with children's/teens' clubs: Families, couples, friends
Scuba diving
windsurfing
Flying trapeze
tennis
Spa & Wellness
Children & Teens
Our resort welcomes children of all ages with supervision, by trained professionals,for each age group.

● Privileged areas , specifically designed for them.
● All equipment is adapted for their comfort and safety.
● The opening times are adapted so that the parents can make the most of their day, evening or even go on an excursion with total peace of mind.
● Inovative children's programs, strong of 40 years experience,respectful of the whims and rhythm of each child.
● Passionate G.O®s
● Ski and snowboard lessons are provided by professional instructors.

Possibilities of taking professional ski and snowboard diplomas

Open 7 days a week
---
Childcare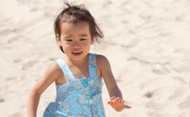 Petit Club Med® (from age 2 to 3 years old)
Optional Extra*
At this age, we are no longer a baby, but we still need to be closely monitored.

It's the time for those first discoveries: the leisure of waking, walking and outdoor play, a full and balanced breakfast (especially designed for the needs of the young), a nap or quiet time, creative activities and of course, snack time, a true feast for those with a sweet tooth! The activities follow the progress of children, distributed into age groups. From 7.30 pm, after dinner with parents, children return to the Petit Club Med®. While the parents have a peaceful dinner, the young ones finish their day with a calm evening.

For your information: Diapers and baby milk are not provided at the Petit Club Med®.

Access conditions :
Duration : From 9 am to 5.30 pm, Every Day
Minimum age : 2 year(s)
Maximum age : 3 year(s)
Children must be up to date with their diphtheria, tetanus and polio jabs. On your arrival at the Resort, you'll be required to present a document showing the child's health record.

Diapers and formula are not provided by Baby Club Med®.

---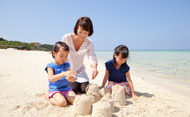 Mini Club Med® (from age 4 to 10 years old)
Included in your package
Create and let off steam. At this age, children have a thirst for everything... The Mini Club Med® has planned everything to respond to this need of discovery in all directions. Sport, fun and creative activities. Children are distributed into sub-groups according to their age. One hour shower stop before dinner.

Access conditions :
Duration : From 9 am to 5.30 pm, Every Day
Minimum age : 4 year(s)
Maximum age : 10 year(s)
From age 4 to 11 years old

---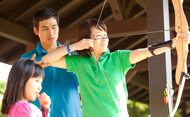 Juniors Club Med® (From 11 to under 18 years old)
Included in your package
It is a great classic of the Club Med for teenagers, in which they are distributed into 2 age groups. Teenagers, independence and parties. Club Med offers everything but imposes nothing. A true state of mind, both free and exclusive, which thrills the young. The Juniors' Club Med® enables teenagers to meet among themselves and participate in activities of their choice while taking part in the life of the Resort. For your information this activity is available all year round.

Access conditions :
Duration : Every day
Minimum age : 11 year(s)
Maximum age : 17 year(s)

Teen agers are under the responsability of the GOs only during the organized activities.
Available only during the European and Asian school vacations


---
Hotel services for your well being
BABY CORNER
BABY CORNER
This baby corner, located in the main restaurant offers food adapted to the little ones as well as the utensils to prepare it yourself if needed.
CLUB MED BABY WELCOME® (FROM BIRTH TO 23 MONTHS OLD)
CLUB MED BABY WELCOME® (FROM BIRTH TO 23 MONTHS OLD)
Everything is provided to ensure the comfort and well-being of babies and their parents.

Personal welcome, baby care equipment in room (baby bed, changing table, baby bath, high chair on request, and bottle warmer), baby corner with all the utensils needed for preparing meals, high chairs and/or booster seats at the restaurant).
Strollers are available if requested
PLAYGROUND
PLAYGROUND
The playgrounds, which are separate from the supervised children's facilities, are accessible to young children accompanied by their parents.
PYJAMAS CLUB®*
PYJAMAS CLUB®*
With the Pyjama Club, parents are able to organise their evening as they would like. This group baby-sitting service, organised by experienced G.O® in a dedicated space, includes all the comfort necessary (beds, seats, video area, etc) for the well-being of their children.
---
Exclusively for your children
Baby Gym
Baby Gym
Babies explore movement - crawling, climbing and sliding - on this fun circuit created specially for them. The activity is run by G.O®s, as part of the children's club activities. Parents may also take part in this learning activity. For information, this activity is only for children enrolled at Petit Club Med®.

Access conditions :
Minimum age : 4 months
Maximum age : 3 year(s)

---
* At an additional charge