Kabira Beach
Japan Asia & Indian Ocean
Resorts with children's/teens' clubs: Families, couples, friends
windsurfing
Bycicle mountain bike
Spa & Wellness
Wellness Centre
Located in the centre of the Resort you will find the Club Med Spa: ● 8 individual treatment rooms ● 1 duo treatment room ● 1 Zen area There are places outside where the trade winds gently blow, and others indoors, like in the warm atmosphere of a comfortable treatment room, where the feeling of being in another world is so intense that you won't ever want to leave. In these gentle havens, you can at last make time for yourself, without cutting yourself off from the rest of the world or the many activities on offer in this Resort.

Benefit from the wholesome goodness of ethnic, innovative or more traditional massages**, and pampering skincare treatment for the face and body. New moments of harmony to help you make peace with your body and let your mind drift gently downstream...
OUR ALL-INCLUSIVE PACKAGES
Well being treatments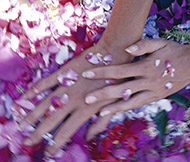 A large choice of beauty treatments, massages**...
inscription and bookings on site only.
> Page top
---
You can reserve our Spa packages at the time of reservation
* At an additional charge