Kabira Beach
Japan Asia & Indian Ocean
Resorts with children's/teens' clubs: Families, couples, friends
windsurfing
Bycicle mountain bike
Spa & Wellness
Sports & Activities
In this Club Med resort,the accent is on sports. Novices and experts alike can try out exciting new sports and sensations. Under the supervision of qualified instructors, enjoy the highest standards of equipment.For your information: There is no flying trapeze in the winter.
---
Archery school
Included in your package
The Sports Schools propose the best equipment and facilities for archery enthusiasts.
● Quality teaching by G.O®s trained in their discipline, to introduce beginners to archery.
● Group lessons 6 days a week, to ensure all participants make good progress.
For information:
> as a regular activity at Mini Club Med®: 6 years old
> in group classes with adults: 11 years old

● Full equipment for each age group and level of skill.




---
Sports schools offer the windsurfing enthusiasts the best infrastructures and equipment to enjoy their passion.
Whether beginners or confirmed, each student will enjoy the best conditions to practice their sport.

● Group lessons for all levels are available 6 days a week to give each person the time and resources to progress

● Specialized and certified GOs to initiate beginners and improve the confirmed level

● Equipment adapted to each age group and each skill level

We remind you that nautical sports are available pending on the sea conditions.


LOOK UP THIS ACTIVITY
---
Yoga School
Included in your package
Yoga is a Hindu sport that aims, via body exercises, to unify the human body with its physical, psychological and spiritual aspects


---
And also…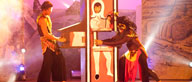 ---
---
> SPORTS Included in your package:
Group lessons for all levels : Windsurfing school Group lessons for beginners : Snorkeling , Archery school , Aquafitness , Guided walks , Mountain bike school , Yoga School Open Access : Beach volleyball , Soccer , Squash , Tennis , Mountain bikes , Weight and Cardio training room
---
---
---
* At an additional charge