Gregolimano
Greece Europe & Mediterranean Coasts
Resorts with children's/teens' clubs: Families, couples, friends
Water-skiing
tennis
Flying trapeze
Children & Teens
With the benefit of over 40 years' Club Med experience behind it, our Resort proposes innovative clubs for children and teenagers:

• Dedicated areas specifically designed for their needs, and equipment designed with a view to comfort and safety. Decor inspired by the local environment, with its flora and fauna: the Mini Club Med® at Gregolimano introduces children to the pleasures of living in harmony with nature, and satisfies their curiosity. A wind farm, giant sundials and the gods Eole, Apollo and Poseidon guide children (aged 4 to 10) in the footsteps of Greek mythology.

• G.O®s with a passion for their job(1)

• Skiing or snowboard lessons given by professional ski instructors, creative activities and games for the different age groups

• Opening hours that allow parents to make the most of their day's skiing, and respect the children's desires and sleeping patterns

For information: the children's clubs are open all week, except Saturday.

(1)In France, G.O®s with a BAFA (State diploma for youth group leaders) or childcare qualification, depending on the age of the children; in other countries, an equivalent local diploma or relevant experience.

---
Childcare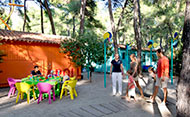 Mini Club Med® (4 to 10)
Included in your package
Create and let off steam. At this age, children have a thirst for everything... The Mini Club Med® has planned everything to respond to this need of discovery in all directions. Sport, fun and creative activities. Children are distributed into sub-groups according to their age.

Access conditions :
Duration : From 9 am to 5.30 pm, 6 days out of 7
Minimum age : 4 year(s)
Maximum age : 10 year(s)

---
Juniors' Club Med (11 to 17)
Included in your package
Teenagers can meet up and take part in the activities that interest them most, in the company of their G.O®:

Sports activities: archery, table tennis, beach volleyball, tennis, sailing, etc
Artistic activities: dance, shows, crazy signs
Evening: entertainment, films, shows
Access conditions :
Duration : 6 days out of 7
Minimum age : 11 year(s)
Maximum age : 17 year(s)
Teenagers are the responsibility of their G.O®s only for the duration of the activities organised specifically for them.
The Juniors' Club Med (11 to 17) is available at the following dates:
From 04/17/2016 to 05/06/2016

---
Hotel services for your well being
BABY CORNER
BABY CORNER
This baby corner, located in the main restaurant, proposes sweet and savoury baby foods and all the equipment necessary for preparing babies' meals.
PLAYGROUND
PLAYGROUND
The playgrounds, which are separate from the supervised children's facilities, are accessible to young children accompanied by their parents.
PYJAMAS CLUB®*
PYJAMAS CLUB®*
With the Pyjama Club, parents can organize their evenings as they wish. This group baby sitting service, is done in the Petit Club and supervised by Go's. The little ones will find all the comfort and dedicated spaces for their entertainment and well being.
---
Exclusively for your children
Clean Art Planet at Mini Club Med®
Clean Art Planet at Mini Club Med®
Clean Art Planet raises children's awareness of the environment. This original activity focuses on the objects that find their way into the sea and are then rejected by the waves: plastic bags, bottles, flip flops, and so on are used in a series of workshops that focus on art and color, putting emotion in the limelight rather than right and wrong!
Once the objects have been collected from the beaches by adults, sorted according to object and color and washed, the Mini Club Med® can get on with the creative side of the activity, during which the children invent objects and stories, do photography, create large-scale works of art and put on exhibitions.
The activity is run by GO®s. *For Club Med Resorts that are not by the sea, the objects used are recyclable waste such as disposable cups, straws, corks, etc, from the Resort kitchens and bars.

Access conditions :
Minimum age : 4 year(s)
Maximum age : 10 year(s)

Little Circus
Little Circus
Circus workshops for children from 4 to 6 years old at Mini Club Med®, to discover the joys of the circus in small groups, with G.O®s trained in their discipline. The children take part in a show, where they can demonstrate what they have learnt

Access conditions :
Minimum age : 4 year(s)
Maximum age : 5 year(s)

Little Tennis
Little Tennis
45 minute lesson nased solely on teaching through role play, where the child is at the heart of the story which will bring him knowledge of tennis without even noticing it.

Access conditions :
Minimum age : 3 year(s)
Maximum age : 4 year(s)

Little Waterskiing
Little Waterskiing
Proposed for children aged 4 to 6, at Mini Club Med®. Your children discover the joys of waterskiing, with all the right equipment, acccompanied by G.O®s trained in their discipline.

Access conditions :
Schedule : The activity lasts around one hour, for around 15 children, using a small motor boat with a 15 HP engine.
The skis are fastened together, and fixed to a perpendicular tow bar on the side of the boat.
The children just have to keep their balance on the skis (100% success rate): they don't have to guide the skis or manage the traction.
It's an easy and fun way to start water skiing.
Participants don't need to know how to swim, but must be at ease in the water.
At the start of the season, this activity is proposed when the water temperature is warm enough.

Minimum age : 4 year(s)
Maximum age : 5 year(s)
Duration of the tour : 2 to 3 minutes.

Mini Football
Mini Football
Players of all ages have great fun with improvised matches on this synthetic court, close to the tennis courts, where the only prizes going are for good spirits!

Access conditions :
Minimum age : 8 year(s)
Maximum age : 9 year(s)

---
* At an additional charge