Da Balaia
Portugal Mediterranean & Atlantic Coasts
Resorts with children's/teens' clubs: Families, couples, friends
Golf
tennis
Spa & Wellness
Children & Teens
Babies only.

Baby Club Med* and Petit Club Med*, for equal doses of activity and gentle tranquillity; the day's program is organised around each child's biological clock.
Our Resort welcomes children of all ages, with children's club facilities for the various age groups, run by dedicated G.O®s(1).

● Dedicated areas, specifically designed for their needs
● Equipment designed with a view to comfort and safety
● Opening hours that allow parents to make the most of their day and evening, or take off for a day's excursion*
● A structure that combines innovation with 40 years of experience, based on the respect of each child's desires and sleeping patterns
● G.O®s with a passion for their job
● Numerous activities for all ages: sport, creative activities and games.

You'll be required to show that your children have the compulsory vaccinations, i.e. a minimum of the first two diphtheria, tetanus and polio jabs.
Places are limited, so we advise you to book early!
For information: the children's clubs are open all week, except Sundays.

(1)In France, G.O®s with a BAFA (State diploma for youth group leaders) or childcare qualification, depending on the age of the children; in other countries, an equivalent local diploma or relevant experience.

For information: the children's clubs are open all week, except Sundays.
---
Childcare
Baby Club Med® (from 4 months to 23 months old)
Optional Extra*
Your babies will be taken care in total security by our dedicated and professional GO's.

Personalized welcome, after breakfast with your family, activities, meals, siesta, cuddles:the Baby Club Med® program conciles gentleness and security and respect of each childs biological rhythm. From 6.30pm, the Baby restaurant welcomes babys and their parents to enjoy dinner together.

For your information: diapers and formula are not provided in Baby Club Med®.The parents or legal guardian must provide proof that the necessary vaccinations are up to date.

Access conditions :
Schedule : 09.00am to 5.30pm (subject to change)
Duration : From 9.00am to 5.30pm, 6 days out of 7
Minimum age : 4 months
Maximum age : 23 months
Children must be up to date with their diphtheria, tetanus and polio jabs. On your arrival at the Resort, you'll be required to present a document showing the child's health record.

Diapers and formula are not provided by Baby Club Med®.

---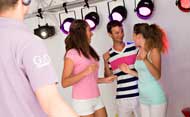 New, Juniors' Club Med (11 to 17), from April 19
Included in your package
Teenagers can meet up and take part in the activities that interest them most, in the company of their G.O®:

Sports activities: golf, tennis, archery, table tennis, beach volleyball
Artistic activities: shows, crazy signs
Evening: entertainment, films, shows
Access conditions :
Duration : 6 days out of 7
Minimum age : 11 year(s)
Maximum age : 17 year(s)
Teenagers are under the responsibility of their G.O®s only during the activities organized specially for them.
Juniors' Club Med is available at Da Balai at the following dates:
from 20 April to 9 May 2015
from 25 to 30 May 2015.
---
Hotel services for your well being
BABY FEEDING ROOM
BABY FEEDING ROOM
Open 24 hours a day, it provides all the utensils necessary for preparing meals: mixer, steriliser (provided upon request), microwave, fridge, bottle warmer (systematically provided in the room for the G.Ms® who have reserved a Baby Club Med® or Club Med Baby Welcome® service) and additional products such as mineral water, fruit, full-fat and semi-skimmed long-life milk (formula not provided), biscuits,cereals, jam and butter.
BABY CORNER
BABY CORNER
This baby corner, located in the main restaurant of the resort, proposes suitable meals for children. You will also find the suitable utensils to prepare their meals yourself if required.
BABY RESTAURANT
BABY RESTAURANT
The meals are devised by the team of specialist chefs at the Baby Restaurant ("L'Atelier"), to satisfy babies' specific needs.
At the Baby Restaurant, the G.O®s are in charge of lunch, but parents can share it with their children if they wish.
CLUB MED BABY WELCOME® (FROM BIRTH TO 23 MONTHS OLD)
CLUB MED BABY WELCOME® (FROM BIRTH TO 23 MONTHS OLD)
The little darlings feel right at home thanks to this service, included in your Package. Everything has been thought of as concerns the babies' comfort and the parents' well-being. Available in the room: baby bed, baby bath, changing table , high chair ( on request)bottle warmer, strollers.

A baby corner is also available in the main restaurant to prepare the baby's food.
PLAYGROUND
PLAYGROUND
The playgrounds are right next to the childrens structures and are accessible to the little ones accompanied by their parents.
PYJAMAS CLUB®*
PYJAMAS CLUB®*
The Pyjamas Club® is a group babysitting service (no specific activities). It enables parents to leave their children with a team of experienced and qualified G.O®s in a dedicated area with all the necessary comforts (beds, couches, video area, etc).
Proposed 3 evenings a week, depending on the entertainment program. For children aged from 4 months to 8 years old.

---
Exclusively for your children
Baby Gym
Baby Gym
Babies explore movement - crawling, climbing and sliding - on this fun circuit created specially for them.
For information: this activity is run by GOs, at the Petit Club Med® only.

Access conditions :
Minimum age : 4 months
Maximum age : 3 year(s)

---
* At an additional charge