Access conditions
● Children are welcome from 8 years old with no supervision
● To board the Club Med 2, GM's have to use the gangway which is made up of 40 steps and is 40 feet long.
● The nautical hall is not always open and depends on mooring, weather conditions and local authorities. Nautical sports are not permitted when Club Med 2 is docked in a port.
The package includes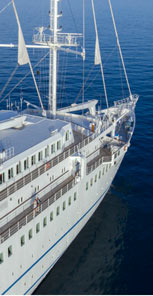 Accommodations

Accommodations: you can choose from a wide variety of classic or deluxe rooms and suites according to your personal preference or depending on your need.

> More Information
Sports & Activities

Group lessons for beginners:
Sailing, Club Med Gym® Cardio training ., Aquadynamic, Pilates

Free access:
Snorkeling, Kayak

> More Information
Leisure

Swimming pool on Grenadines deck, Swimming pool on Eiao deck, Lounge and festive evenings.

> More Information
Restaurants & Bars

Gourmet dining and premium beverages: a variety of dining options are at your fingertips for breakfast, lunch, dinner and any time in between. Quality alcoholic and non-alcoholic drinks* are included.
*Except for Champagne, VSOP and XO spirits, some premium brands, wine list, canned and/or bottled drinks and mini-bar, which are at an extra charge.

> More Information
Transport package

Your package includes: round flight trip and transfers from the airport to the Ship