Access conditions
This resort welcomes children of all ages, with supervision from 4 months to 2 years old.
No supervision is in place for children aged from 2 to 18 years old
This resort offers childcare that suits your child's age
>
Baby Club Med (4 to 23 months)
The package includes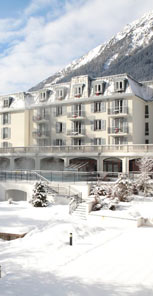 Accommodations

Accommodations: you can choose from a wide variety of classic or deluxe rooms and suites according to your personal preference or depending on your need.

> More Information
Childcare & children's programs

For babies only...

The Baby Club Med®* provides a gentle and dynamic atmosphere, with the day's activities organized around each child's biological clock.

For your information: for the comfort and health of all the children, and in accordance with French legislation, children under 6 years old must have a recent medical certificate stating that there are no contra-indications to their presence, issued just before their arrival at the Resort.

The Baby Club Med®* gets its inspiration from nature, to satisfy children's curiosity and show them the pleasure of living in harmony with the natural environment. A powdery, pastel world of chamois, snow flakes and the majestic Mont Blanc.

> More Information
Club Med Baby Welcome

Everything for your baby's comfort: high quality baby equipment and suitable food for babies up to 23 months.

> More Information
Sports & Activities

Ski pass and skiing/snowboarding lessons (depending on the resort)

Group lessons for beginners:
Pilates

Open Access:
Cardio training and Weight room

Group lessons for all levels:
Alpine Skiing, Snowboard, Club Med fitness

> More Information
Leisure

Bridge lounge, Swimming pool, Festive and lounge evenings.

> More Information
Restaurants & Bars

Gourmet dining and premium beverages: a variety of dining options are at your fingertips for breakfast, lunch, dinner and any time in between. Quality alcoholic and non-alcoholic drinks* are included.
*Except for Champagne, VSOP and XO spirits, some premium brands, wine list, canned and/or bottled drinks and mini-bar, which are at an extra charge.

> More Information
Transport package

Your package includes round train trip and transfers to and from the train station to the Resort.