Chamonix Mont - Blanc
France Alps, France
Advanced skiing
Charm & Prestige
Spa & Wellness
Included après-ski activities
Children & Teens
For the little ones only...

Baby Club Med*, full of energy and friendliness, days adapted to the biological rythem of each child..

For your information:
For the comfort and security of all children, the current legislation in France requires A Medical Certificate for each child under the age of 6 years old saying that they have no medical counter indications to participating in group activities.For your information, the childcare structures are closed on Saturdays.
---
Childcare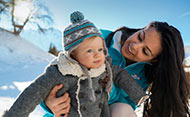 Baby Club Med® (from 4 to under 2 years old)
Optional Extra*
At this age, we are no longer a baby, but we still need to be closely monitored.

It's the time for those first discoveries: the leisure of waking, walking and outdoor play, a full and balanced lunch (especially designed for the needs of the little ones), a nap or quiet time, creative activities and of course, snack time, a true feast for those with a sweet tooth!.

For you information diapers and formula are not provided in Baby Club Med.

Access conditions :
Duration : From 8.30am to 5.00pm, 6 Days out of 7
Minimum age : 4 months
Maximum age : 23 months
Children must be up to date with their diphtheria, tetanus and polio jabs. On your arrival at the Resort, you'll be required to present a document showing the child's health record.

Diapers and formula are not provided by Baby Club Med®.

---
Hotel services for your well being
BABY CORNER
BABY CORNER
This Baby Corner, in the main restaurant, offers a special service for babies. You will find all the necessary equipment to make your babies meal.
BABY-SITTING*
BABY-SITTING*
To enjoy a moment of total freedom, take advantage of the baby-sitting service, day or evening. For information: we provide a list of baby-sitting services on request, but Club Med has no responsibility for the service.
CLUB MED BABY WELCOME® (FROM 0 TO 23 MONTHS)
CLUB MED BABY WELCOME® (FROM 0 TO 23 MONTHS)
For the comfort and well being of babies and their parents! Personalized welcome, equipment available in room (baby bed, changing table, baby bath, high chair upon request, bottle warmer), adapted food, baby corner with equipment adapted to preparing their meals. Strollers are available upon request.
---
Exclusively for your children
Baby Gym
Baby Gym
Babies explore movement - crawling, climbing and sliding - on fun circuits created especially for them. The activity is run by G.O-, as part of the children's club activities proposed. Parents may also take part in this learning activity when the G.O- organise specific events.
For information, this activity is open to children enrolled at Baby Club Med-.

Access conditions :
Minimum age : 4 months

---
* At an additional charge