Cargèse
France Europe & Mediterranean Coasts
Resorts with children's/teens' clubs: Families, couples, friends
tennis
Sailing
Children & Teens
Our Resort welcomes children of all ages with supervision, by trained professionals, for each age group.

● Privileged areas , specifically designed for them.
● All equipment is adapted for their comfort and safety.
● The opening times are adapted so that the parents can make the most of their day, evening or even go on an excursion with total peace of mind.
● Inovative children's programs, strong of 40 years experience, respectful of the whims and rhythm of each child.
●Passionate G.O®s
For your information this is closed on Saturdays
---
Childcare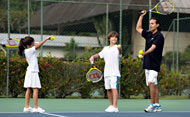 Mini Club Med® (from age 4 to 10 years old)
Included in your package
Creativity and energy.

At this age, children have a thirst for everything.

The Mini Club Med®'s vocation is to satisfy their boundless energy and curiosity. Activities include sport, games and various creative activities.
Children are divided into age groups.



Access conditions :
Duration : From 9.00am to 5.30pm, 6 days out of 7
Minimum age : 4 year(s)
Maximum age : 10 year(s)

---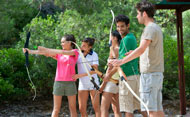 Juniors Club Med® (From 11 to under 18 years old)
Included in your package
It is a great classic of the Club Med for teenagers, in which they are distributed into 2 age groups. Teenagers, independence and parties. Club Med offers everything but imposes nothing. A true state of mind, both free and exclusive, which thrills the young. The Juniors' Club Med® enables teenagers to meet among themselves and participate in activities of their choice while taking part in the life of the Resort.

Access conditions :
Duration : 6 days out of 7
Minimum age : 11 year(s)
Maximum age : 17 year(s)

Teen agers are under the responsability of the GOs only during the organized activities.

---
Hotel services for your well being
BABY SITTING*
BABY SITTING*
Take advantage of the baby-sitting service, and enjoy a moment of total freedom.
For your information: a list of baby sitters is available to you; Club Med is in no way responsible for this service.
PLAYGROUND
PLAYGROUND
The playgrounds, which are separate from the supervised children's facilities, are accessible to young children accompanied by their parents.
---
Exclusively for your children
Clean Art Planet at Mini Club Med®
Clean Art Planet at Mini Club Med®
Clean Art Planet raises children's awareness of the environment. This original activity focuses on the objects that find their way into the sea and are then rejected by the waves: plastic bags, bottles, flip flops, and so on are used in a series of workshops that focus on art and color, putting emotion in the limelight rather than right and wrong!
Once the objects have been collected from the beaches by adults, sorted according to object and color and washed, the Mini Club Med® can get on with the creative side of the activity, during which the children invent objects and stories, do photography, create large-scale works of art and put on exhibitions.
The activity is run by GO®s. *For Club Med Resorts that are not by the sea, the objects used are recyclable waste such as disposable cups, straws, corks, etc, from the Resort kitchens and bars.

Access conditions :
Minimum age : 4 year(s)
Maximum age : 10 year(s)

Happy Nature Box at Mini Club Med®
Happy Nature Box at Mini Club Med®
At Mini Club Med®, "Happy Nature Box" invites children aged 4 to under 11 to discover nature through three fun activities:
Happy Nature Box "exploration": to show children the wonders of nature at Club Med… from the tiniest insect to the brightest star!
Happy Nature Box "energy": through the natural energy of Water, Wind, Earth and Sun, children will learn to get their fill of positive energy!
Happy Nature Box "music": to give the children the chance to try out their musical skills…. They take part in a "fanfare of Nature"!
Activity run by G.O®s.
Access conditions :
Minimum age : 4 year(s)
Maximum age : 10 year(s)
---
* At an additional charge