Cancún Yucatán
Mexico Caribbean & Coasts of the Americas
Resorts with children's/teens' clubs: Families, couples, friends
Water-skiing
windsurfing
Scuba diving
Flying trapeze
Fitness
Spa & Wellness
Children & Teens
With the benefit of over 40 years' Club Med experience behind it, our Resort proposes innovative clubs for children and teenagers:

• Dedicated areas specifically designed for their needs, and equipment designed with a view to comfort and safety

• G.O®s with a passion for their job(1)

• Numerous activities for all ages: sport, creative activities and games for the different age groups

• Opening hours that allow parents to make the most of their stay, and respect the children's desires and sleeping patterns

For information: the children's clubs are open all week.

(1)In France, G.O®s with a BAFA (State diploma for youth group leaders) or childcare qualification, depending on the age of the children; in other countries, an equivalent local diploma or relevant experience.

---
Childcare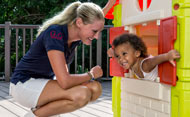 Petit Club Med® (2 to 3)
Optional Extra*
Fun and spacious premises with plenty of outdoor space, your toddlers will have great fun with their friends, and explore a great range of activities designed to introduce them to new experiences:

Sport: walks, gym sessions, water games
Making things: painting, collage, colored stickers, herbariums
Expression: dressing up, make up, fashion shows, listening to music, puppets
Play: outdoor games and board games
Rest time and siesta, lunch and tea
Evening: songs, games, nursery rhymes, shows
Access conditions :
Duration : From 9 am to 5.30 pm and from 7.30 pm to 9 pm, 6 days a week
Minimum age : 2 year(s)
Maximum age : 3 year(s)
Children must be up to date with their diphtheria, tetanus and polio jabs. On arrival at the Resort, you'll be asked to present a document showing the child's health record.
Nappies and baby milk are not provided by Petit Club Med®*.
Places are limited, so we advise you to book early!
---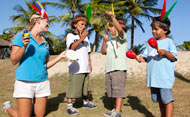 Mini Club Med® (4 to 10)
Included in your package
This « new generation » Mini Club Med® offers your children a completely new experience! Fun, laughter and emotion guaranteed, with three distinct spaces, each one dedicated to a different theme: making things, expression and games.

Our G.O®s make sure they enjoy a unique, adventure-packed vacation, with discovery, sports and activities for each age group:

Sport: Little Tennis, Little Golf, Zumba Kids, etc (a fun learning approach to these sports)
Making things: cookery lessons (e.g. Petit Chef Program®), nature activities (e.g. Clean Art Planet, Happy Nature Box), art and crafts
Expression: dancing, preparing and taking part in shows, crazy signs
Play: group games and activities
Lunch and tea
Evening: after dinner with their friends, the children enjoy specially devised evening activities
Access conditions :
Schedule : Subject to change: From 9.00am to 5.30pm and then from 6.30pm to 9.00pm
Duration : From 9 am to 5.30 pm and from 7 pm to 9 pm, every day
Minimum age : 4 year(s)
Maximum age : 10 year(s)
From 4 to under 11 years old
---
Club Med Passworld® (11 to 17)
Included in your package
During school vacations,the Club Med Passworld® imposes nothing; a mind set that the tweens and teens love. Available to them is a private space dedicated to them, a real area set up for their meetings located in the heart of the resort.

Here in Cancun the teens will love this dedicated area located under the restaurant, called the Car Wash.
For your information: The Car Wash is available all year round.

Access conditions :
Duration : Every day
Minimum age : 11 year(s)
Maximum age : 17 year(s)

Teen agers are under the responsability of the GOs only during the organized activities.

---
Hotel services for your well being
BABY CORNER
BABY CORNER
This Baby Corner, located in the main restaurant, offers food adapted to babies as well as the ustensils needed to prepare it.
BABY SITTING*
BABY SITTING*
To enjoy a moment to the full in complete freedom, take advantage of the baby-sitting service.
CLUB MED BABY WELCOME® (FROM BIRTH TO 23 MONTHS)
CLUB MED BABY WELCOME® (FROM BIRTH TO 23 MONTHS)
The little darlings feel right at home thanks to this service, included in your Package. Everything has been thought of as concerns the babies' comfort and the parents' well-being. Available in the room: baby bed, baby bath, changing table, high chair (on request), bottle warmer, strollers.

A baby corner is also available in the main restaurant to prepare the baby's food.
PLAYGROUND
PLAYGROUND
The playgrounds, which are separate from the supervised children's facilities, are accessible to young children accompanied by their parents.
PYJAMAS CLUB®*
PYJAMAS CLUB®*
Group supervision of the children with light entertainment. Objective: Provide parents an opportunity to have a complete evening without the kids. Method: Dedicated child care staff assigned to take care of children during the evening hours at the Child Care facilities.This service is available for children aged from 4 to 10 years old.
---
Exclusively for your children
Little Basketball
Little Basketball
A half hour lesson with equipment, facilities and method devised specifically for children.

Access conditions :
Minimum age : 3 year(s)
Maximum age : 4 year(s)

Little Circus
Little Circus
Circus workshops for children aged 4 to 6 at Mini Club Med®, to discover the joys of the circus in small groups, with G.O®s trained in their discipline. The children take part in a show, where they can demonstrate what they have learnt.

Access conditions :
Minimum age : 4 year(s)
Maximum age : 5 year(s)

Little Soccer
Little Soccer
A half hour lesson with equipment, facilities and method devised specifically for children.

Access conditions :
Minimum age : 3 year(s)
Maximum age : 7 year(s)

Little Tennis
Little Tennis
Through role play, children aged 4 to 7 get to learn tennis the fun way, at Mini Club Med®*.

Access conditions :
Minimum age : 3 year(s)
Maximum age : 4 year(s)

Mini Club Talent Show
Mini Club Talent Show
New entertainment for the children:

Access conditions :
Minimum age : 4 year(s)
Maximum age : 10 year(s)

Petit Chef program®
Petit Chef program®
We offer children a unique and fun learning experience.  Kids will be able to learn basic cooking techniques, kitchen safety, and how to follow recipe directions.  They will also learn how to help Mom and Dad in the kitchen, and even teach them a few things! Program also includes a variety of nutritional tips inspiring ideas on how to make healthy eating choices. Classes of up to 12 kids will create exciting dishes under the supervision of our Club Med Chefs. After making the food, the kids will be able to sit and eat what they prepared, and later take the recipes home. This fun cooking class is designed for kids aged between 6 and 10 years old.

Access conditions :
Minimum age : 4 year(s)
Maximum age : 10 year(s)

Teen Spa*
Teen Spa*
The Club Med Spa by COMFORT ZONE opens it's doors to teens.
A specific menu of beauty treatments (no massages**) is available at certain times to get them to discover the world of well being.
Booking on site only.

**For your information, our massages are non medical and non paramedical. They are well being treatments and non therapeutic. The word "massage" can also mean a body sculpt technique, done by our professional practitioners or our beauty therapists. '

Access conditions :
Minimum age : 11 year(s)
Maximum age : 17 year(s)

---
* At an additional charge