Bali
Indonesia Asia & Indian Ocean
Resorts with children's/teens' clubs: Families, couples, friends
Golf
Flying trapeze
Spa & Wellness
Discovery & culture
Wellness Centre
The Club Med Spa by MANDARA reflects the soul of Asia's most ancient rituals.

All our treatment programs are organised around a theme.

Put yourself in the gentle hands of our beauticians and massage therapists, and let your senses take over.

Choose from a wide range of beauty treatments and a range of beauty products using natural ingredients. Fatigue and tension will give way to a delightful sensation of well-being and serenity.
Most of our packages are designed for both men and women.

**For information:
all the massage techniques available in our Spas are designed to enhance beauty and well-being. We do no medical, para-medical or therapeutic massages. The term "massage" can also refer to a variety of body-sculpting techniques, by qualified but non-medical massage therapists.
OUR ALL-INCLUSIVE PACKAGES
We can also offer you:
> Turkish bath
You'll find :
• 1 men's Turkish Bath
• 1 women's Turkish Bath

Enjoy the experience of relaxing in the Turkish Bath. This steam bath heated to about 50°C evacuates toxins through perspiration, facilitates exfoliation and produces a profound feeling of well- being and relaxation. There are a few guidelines and contraindications that should be taken into account.
> Sauna
Available to you: ● 1 mens sauna ● 1 womens sauna To unwind and relax, let yourself be tempted by the sauna. Finnish steam bath characterized by dry heat between 158°F and 194°F leads to the elimination of toxins and provides a pleasant feeling of well-being. Some precautions of use and counter-indications must be respected.
> Jacuzzi
Available to you:
A bath equipped with a system of water jets that has a relaxing, massage effect.
Balinese Massage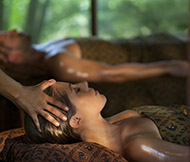 Relaxation Our most relaxing massage, harnessing the therapeutic properties of 100% pure essential oils. Used for centuries to renew, strengthen and heal both body and mind, this traditional therapy combines stretching, long strokes, skin rolling and palm and thumb pressure techniques to relieve tension, improve blood flow, ease stress and calm the mind. It can also help to improve the circulatory, lymphatic, muscular and nervous systems.
1 treatment • 1 Relaxing Massage with Essential Oils (50') 1 treatment • 1 Relaxing Massage with Essential Oils (50')
> Page top
---
Body & Soul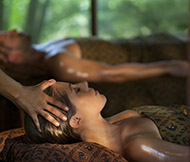 Relaxation Revitalising and regenerating treatments for body and mind, for a totally relaxing vacation.
8 treatments
Relaxation Revitalising and regenerating treatments for body and mind, for a totally relaxing vacation.
8 treatments
• 2 Balinese Massages (50') • 2 Refresher Facial or 2 Foot Massages (30') • 1 Warm Stone Massage (50') • 1 Aromatherapy Floral Foot Bath (10') • 1 Lavender Body Wash followed by 1 Traditional Body Scrub (45') • 1 Aromatherapy Floral Bath (15')
> Page top
---
Fancy Foot-Work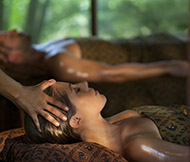 Relaxation The most blissful ride your feet will ever take you on. It's like reflexology without the ?ouch'. Based on the same therapeutic principles of its ancient ancestor, this foot massage will help to release toxins and restore your body's energy flow. And it feels like bliss at its celestial best.
1 treatment • 1 Foot Massage based on principles similar to Reflexology (50')
> Page top
---
Pure Indulgence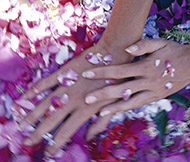 Beauty An exotic, luxurious and unforgettable celebration of indulgence.
5 treatments • 1 Aromatherapy Floral Foot Bath (10') • 1 Lavender Body Wash followed by 1 Traditional Body Scrub (45') • 1 Aromatherapy Floral Bath (15') • 1 Balinese Massage (50') • 1 Refresher Facial or 1 Foot Massage (30')
> Page top
---
Pure Natural Facial
Mandara Spa's signature facial is rich in enzymes that can peel away dead skin, antioxidant vitamins to protect and treat the cells from environmental (and self-induced!) pollutants and natural oils for deep nourishment. We use only natural ingredients with no harmful preservatives or additives. There are three options for different skin types, relying on nature's life-force to restore the equilibrium and deliver a vitamin and mineral burst to your skin.
? Preserve :a cleansing and rejuvenating facial for normal skin.
? Renew: a fruit acid facial for treating environmentally damaged skin.
? Enrich : a nourishing facial for dry or mature skin.
1 treatment • 1 MANDARA Facial Treatment with Natural Nourishing Oils (50')
> Page top
---
Regeneration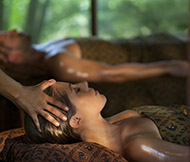 Relaxation One complete week dedicated to relaxation.
16 treatments • 3 Balinese Massages (50') • 3 Refresher Facial or 3 Foot Massages (30') • 2 Warm Stone Massages (50') • 2 Aromatherapy Floral Foot Baths (10') • 2 Aromatherapy Floral Baths (15') • 2 Lavender Body Washes followed by 2 Traditional Body Scrubs (45') • 1 Spa Manicure (60') • 1 Spa Pedicure (75')
> Page top
---
Spa Sampler
Relaxation Experience the pleasure of relaxation with this combination of Balinese Massage and your choice of Refresher Facial or Foot Massage.
2 treatments • 1 Balinese Massage (50') • 1 Refresher Facial or 1 Foot Massage (30')
> Page top
---
Warm Stone Massage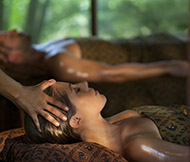 Relaxation The healing power of touch combines with the energy of the earth in this relaxing, muscle melting massage. Smooth, warmed stones glide across your body in long, flowing strokes. The heat helps to relax the muscles and has a soothing effect on your emotions. Simultaneously, stones are placed on the body's various energy points to encourage the body's healing potential.
1 treatments • 1 Warm Stone Massage (50')
> Page top
---
You can reserve our Spa packages at the time of reservation
* At an additional charge