Enrol at the world's largest Sports Academy and take advantage of great teaching and equipment. Club Med proposes a great range of sports activities for all levels and approaches: perfect your skill with professionals, learn the ropes of a new activity, or enjoy your sport at your own pace.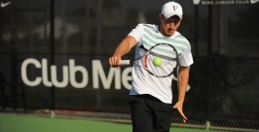 Our Sports Academies provide the ideal conditions for giving vent to your passion for sports. In some case the Academy is included in your package, and they all propose additional classes (at extra cost) to boost your skills in the sport of your choice.
When starting to learn a new sport, having the best facilities makes all the difference. Club Med provides the right equipment, and GOs whose personal attention will set you off on the right foot, whatever the sport you try.
Sport is also a way of getting away from it all, which is why Club Med proposes a free access system for many sports activities, without lessons. You're free to enjoy your sport at your own pace during your stay.
SEARCH A RESORT
SEARCH BY SINGLE CRITERIA
By destination

By children's club

By available dates

By activities

By comfort level

By price bracket