5-trident resorts
Experience a great combination of warmth and refinement in the dream destinations of our 5T Resorts, designed by the top talents. A host of customised services and brand new activities, for an All Inclusive Luxury Vacation.
Exceptional sites
in prestigious places
Discover our Resorts and Club Med 2 cruises in the most beautiful places on the planet: exotic Mauritius, the turquoise waters of the Caribbean and the ancient sites of the Mediterranean.
Our 5T Resorts welcome you to a world of luxury accommodation with beautifully decorated, spacious rooms and Suites. A warm and welcoming ambience with local charm and a contemporary spirit, for top comfort and relaxation.
Exclusive, customized
services
Customized services throughout your stay, including personal transfer, room service for breakfast, gastronomic restaurant and champagne served by the glass from 6 pm.
Unique and
exceptional activities
Treat yourself to moments of relaxation and exploration, from a great array of tempting propositions. Enjoy our luxury Spa treatments with prestigious partners such as Carita and Cinq Mondes, and premium sports such as golf and scuba diving.
Choose the ambience
that suits you best
To suit your moods and desires of the day, our 5T Resorts offer the choice between friendly, good-fun activities and exclusive privacy.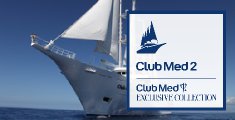 Our majestic 5-masted sailing vessel, redesigned by Sophie Jacqmin, will sail you through the world's finest seas between the Caribbean and the Mediterranean.
SEARCH A RESORT
SEARCH BY SINGLE CRITERIA
By destination

By children's club

By available dates

By activities

By comfort level

By price bracket